About Ad blocking
Ad blocking
(or Adblock by the name of plugin) is blocking of online advertisement by users.
IAB recommendations on ad blocking
Ad blocking combating methods (anti ad block)
Tips for webmaster regarding ad blocking
How to disable Adblock on the web-site you like
Online media in a new environment: ad blocking issue

Ad blocking scale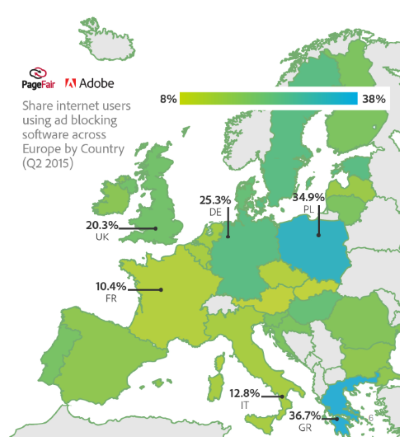 In recent years the number of web users blocking advertisement on their computers and mobile devices has grown rapidly. It is only 10 years ago that the share of ad blocker adopting users was at some low rate. However, in the middle of 2015 the share of users with ad blockers in such countries as Poland and Greece has already reached 35%. In the USA this figure is reported at 15-16%; in the past year the number of such users increased by 46% (see
The Cost of Ad Blocking
report).
In 2015 there were 3 bn. web users worldwide, of those 200 ml.
blocked advertisement.
. Based on such estimates, around 7% of users across the globe don't see online advertisement. However, based on the above and other research, the rough figures are underestimated. For instance,
according to GlobalWebIndex
38% of users blocked advertisement in Q4 2015.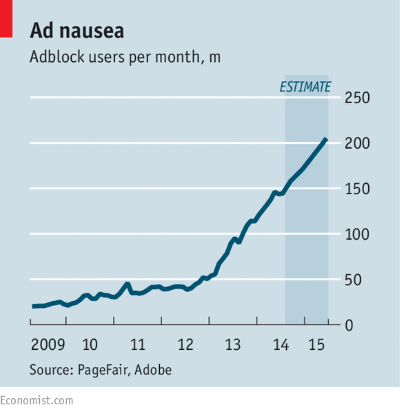 According to our own estimates, users block 15-25% of advertisement traffic in Russia. This percentage is lower for mobile platforms (8%) and higher for PCs (25%). For a specific site this figure depends on the subject, which determines audience profile, and, therefore, blocking tendency. Thus, men block advertisement more often than women do. The highest blocking percentage belongs to gaming web-sites and technical resources, where the share of skilled web users is high. To find out what is the share of blocked ads on your web-site, take advantage of
free AdRegain statistics
.
Why do users block advertisement
According to surveys, there are two main reasons for users to block advertisement:
Ad blocking protects me from viruses and privacy breach (meaning the tracking of personal information by ad scripts).
There is too much of advertisement nowadays, it distracts from work.
In addition, users rightly point out that ad blocking in mobile devices cuts traffic and thus saves money. Moreover, users believe that ad blocking may improve computer performance (although plugins slow down browser performance).
Is it lawful to block advertisement
In public opinion, ad blocking is not something unlawful. A person downloading a pirate movie through torrent understands that it is illegal. But a reader, who blocks advertisement, does no scruple to actually rob the media by consuming an ad-monetized product free of charge. Blocking of advertisement – is it legal?
In 2015 German media holding Axel Springer
tried
to judicially prohibit Adblock Plus developers from using any ad blocking tools. Their indignation was especially due to the fact that some time earlier Adblock Plus issued its Acceptable Ads Manifesto (on advertisement, which is not very irritating to user) and introduced a white list of websites, where no advertisement is blocked. At the same time, they demand large web-sites to pay to be included in the white list. It turns out that the developers of the most popular plug-in worldwide turned into simple extortionists. However, the court didn't take sides with the publisher– it adjudged the blocking of advertisement legal. "As Superman or Batman, we protect user rights, and it's extremely hard, but it is worth it", — said Till Faida, Adblock Plus co-founder. This judicial award created an international precedent for advertisement blocking.
If we have a look at Russian laws, the most suitable article of the Criminal Code would be article 273 "Development, use and distribution of malicious software":
1. Development, distribution or use of software or any other computer information, deliberately designed for the unauthorized destruction, blocking, modification, copying of computer information or elimination of digital information protection means…
Ad blockers by definition do not significantly differ from the utilities used to crack software or for key emulation (also, they may have the same purpose of removing irritating advertisement from software). If you prefer resorting to this argument, you may want to post a statement on your web-site along with copyright that the rights holder supplies information in the way it is streamed by its web-server, with prohibited full or partial modification or blocking, including ad modules, using special software.
However, the perspectives of legal solution for the issue are next to nothing. The largest ant-viral software developers hold it appropriate to supply their products with ad blocking options (for instance, Anti-Banner module in Kaspersky products). The efforts to settle this issue judicially will be associated with high reputational costs to plaintiff, as in public opinion it will infringe the freedom of information choice.
Ways to combat ad blocking
The overview of the key methods for fighting ad blocking may be found in article
"Ways to deal with ad blocking (anti-adblock)"
.
The detailed approaches to prevent ad blocking are described in
IAB recommendations
(Interactive Advertising Bureau; a non-profit organization developing online advertisement standards).