IAB tactics to mitigate ad blocking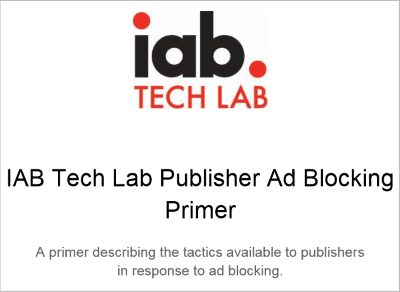 In March 2016 the Interactive Advertising Bureau (
IAB
; a non-profit organization developing online advertisement standards) issued a primer on responding to ad blocking, where it set forth the most accurate, as they believe, approach to solving the problem. The IAB offers a DEAL algorithm:
1.
Detect.
At the first stage, website determines that a user has ad blocking tools on.
2.
Explain.
Then, it is necessary to explain to the user that by blocking advertisement, s/he deprives the web-site of its revenue and threatens its further existence.
3.
Ask.
As the next step, the user is requested to change his/her behavior (to disable ad blocking, make a small payment to the website, agree to see a nonintrusive advertisement).
4.
Lift
restrictions
or Limit
access. Following all of the above, unless the user satisfies the requests, lift restrictions or deny access to the web-site, or try by-passing the blocking.
In its primer, the IAB offers detailed tactics to handle ad blocking, considering the risks inherent in: notifying users, partially limiting access to content or full access denial. It considers the issue of making readers pay for ad-free experience, and, vice versa, encouraging users to view advertisement by providing extra bonuses (for instance, additional lives, time, scores for game app users).
It specifically considers bypassing ad block by reinserting alternative advertisement instead of blocked one. The negative aspects here include the danger of "arms race" between web-sites and users, and generally between advertisement industry and blocker developers.
For detailed pros and cons for each point of combating ad blocking, as well as for potential threats of their hands-on application, please see the
IAB Primer
.
Avoid adblock
About Ad blocking
Ad blocking combating methods (anti ad block)
Tips for webmaster regarding ad blocking
How to disable Adblock on the web-site you like
Online media in a new environment: ad blocking issue